Historical luminaire THL-315 "Chemnitz"

This luminaire was designed according to the historical model of the old gas luminaires from Chemnitz. It is suitable for the illumination of streets, parks and facilities.
The application can be carried out in conjunction with our historical iron candelabra, but also on wall- mounted arms and in multiple arm combinations.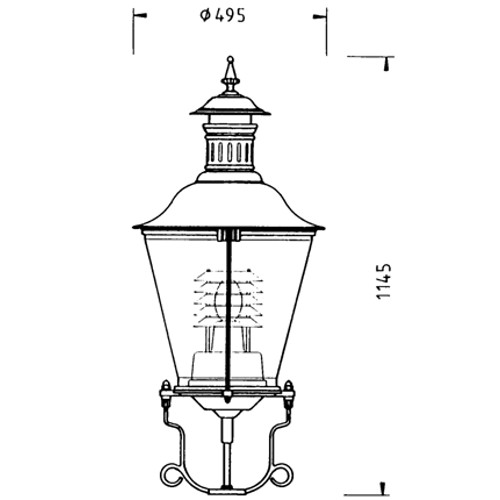 ---
Luminaire housing:
· Cast aluminum with 2 capture rods made of V2A
Fitting roof:
· Coppersheet or Aluminumsheet, painted
Reflector:
· Aluminium, mirroranodized
Glass:
· PC, clear or crystal glass
Fastening elements:
· V2A
Varnishing:
· RAL color of your choice
Installation:
· LED
· 1xE26 ES
· TCD
· HSE
· HIE
· Gas
· all electric parts with VDE mark
Protection category:
· IP 54
Protection class:
· SK I, SK II available on request
Bow luminaires:
· Flangebow



Historical luminaire THL-315 on candelabra THK-685/685-A
---