Conversion kit NewNight CONE Universal Module
LED-installation kit for hanging and top luminaires for retrofitting to existing Street Lighting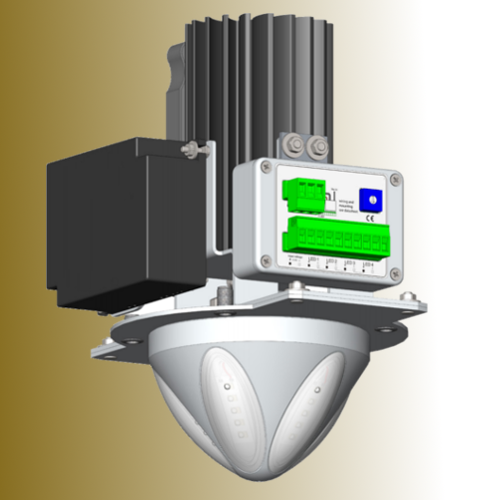 ---
The CONE LED module from the NewNight® series is the innovative solution for the exchange of MVL/HPS illuminants in Street Lighting.
· energy savings up to 80%
· Illuminant for historic lighting
· maintenance free LED Engine

Optional features:
· dimming the entire luminaire
· dimming of subsegments with different asymmetrical light distributions h5>

---

Technical Specification
| | |
| --- | --- |
| Performance td> | 32 - 50 W td> tr> |
| LED lifetime td> | > 60,000 hrs. td> tr> |
| LED color temperature td> | 4100 K * td> tr> |
| luminous flux td> | > 2,620 lm (32 Watt) td> tr> |
| color rendering td> | CRI> 85 td> tr> |
| IP Protection td> | IP 65 td> tr> |
| application area td> | - 40 ° to + 55 ° C td> tr> |
| Warranty td> | 5 years td> tr> |
* Color temperatures selectable
---
Light distribution
Practical example
LED CONE kits with Maxi Dimm 3000
asymmetrical light distribution by individual control of the LED segments, about the blackout of home zones in residential streets; In addition, the luminous LED segments can be dimmed

Conversion kit NewNight BeeLED
LED-installation kit for hanging and top luminaires for retrofitting to existing Street Lighting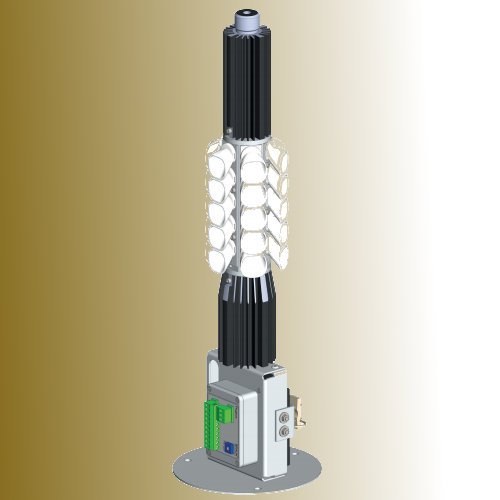 ---
The BeeLED module from the NewNight® series is the innovative solution for exchanging MVL/HPS illuminants in top luminaires ( round jacket luminaires).

· energy savings up to 80%
· Illuminant for historic lighting
· maintenance free LED Engine

Optional features:
· dimming the entire luminaire
· dimming of subsegments with different asymmetrical light distributions
---
Technical Specification
| | |
| --- | --- |
| Performance td> | 32 - 70 W td> tr> |
| LED lifetime td> | > 60,000 hrs. td> tr> |
| LED color temperature td> | 4100 K * td> tr> |
| luminous flux td> | > 3,440 lm (38 Watt) td> tr> |
| color rendering td> | CRI> 85 td> tr> |
| IP Protection td> | IP 65 td> tr> |
| application area td> | - 40 ° to + 55 ° C td> tr> |
| Warranty td> | 5 years td> tr> |
* Color temperatures selectable
---
Light distribution
---
Function overview
Function
E1/ESS Basic
E2/ESS Light
R1/ROAL
D1/MaxiDimm
Possible regulation of power
manually via 10-stage code switch
X
X
X
programmable via service unit
X
Dimming function
Halfnight switching over control voltage 230V
dimming manually via 10-stage code switch
X
X
several dimming levels programmable, astronomical dimming
X
0-10 V / 1-10 V interface
X
X
Dali / PWM interface (only if there is no control line available)
X
Special functions
Constant light function (acting against the loss of light)
X
---
Practical example
LURA-LED kit with Maxi Dimm 3000
Asymmetric light distribution through individual control of the LEDSegmente, about the blackout of home front zones in residential streets; In addition, the luminous LED segments of Lura EBS can be dimmed.
LED module with six segments of Lura kit round jacket luminaires



Conversion kit NewNight LURA

LED-installation kit for hanging and top luminaires for retrofitting to existing Street Lighting



---

Das LURA-Modul from the NewNight® series is the innovative solution for exchanging MVL/HPS illuminants in top luminaires
· energy savings up to 80%
· maintenance free LED Engine

Optional features:
· dimming the entire luminaire
· dimming of subsegments with different asymmetrical light distributions

---

Technical Specification

| | |
| --- | --- |
| Performance td> | 38 - 70 W td> tr> |
| LED lifetime td> | > 60,000 hrs. td> tr> |
| LED color temperature td> | 4100 K * td> tr> |
| luminous flux td> | > 3,440 lm (38 Watt) td> tr> |
| color rendering td> | CRI> 85 td> tr> |
| IP Protection td> | IP 65 td> tr> |
| application area td> | - 40 ° to + 55 ° C td> tr> |
| Warranty td> | 5 years td> tr> |

* Color temperatures selectable
---
Function overview
Function
E1/ESS Basic
E2/ESS Light
R1/ROAL
D1/MaxiDimm
Possible regulation of power
manually via 10-stage code switch
X
X
X
programmable via service unit
X
Dimming function
Halfnight switching over control voltage 230V
dimming manually via 10-stage code switch
X
X
several dimming levels programmable, astronomical dimming
X
0-10 V / 1-10 V interface
X
X
Dali / PWM interface (only if there is no control line available)
X
Special functions
Constant light function (acting against the loss of light)
X
Light distribution
---
Practical example
LURA-LED kit with Maxi Dimm 3000
Asymmetric light distribution through individual control of the LED segments, about the blackout of home zones in residential streets; In addition, the illuminated LED segments of Lura EBS can be dimmed.
LED module with six segments of Lura kit for round jacket lights


---
Conversion kit NewNight LURA taper
LED module with special optics, for symmetric / asymmetric light distributions
selection of the controller according to customer requirements. Here: with "PlugBox adjustable" Controller h5>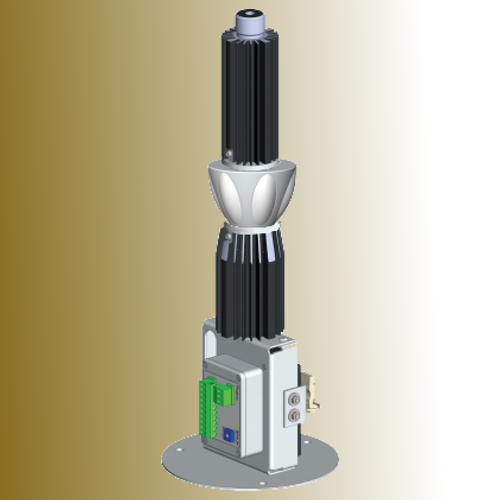 ---
The LURA taper module of the NewNight® series is the innovative solution for exchanging HQL / NAV illuminants in top luminaires ( round jacket lights).
· energy savings up to 80%
· maintenance free LED Engine

Optional features:
· dimming the entire luminaire
· dimming of subsegments with different asymmetrical light distributions
---
Technical Specification
| | |
| --- | --- |
| Performance td> | 38 - 70 W td> tr> |
| LED lifetime td> | > 60,000 hrs. td> tr> |
| LED color temperature td> | 4100 K * td> tr> |
| luminous flux td> | > 3,440 lm (38 Watt) td> tr> |
| color rendering td> | CRI> 85 td> tr> |
| IP Protection td> | IP 65 td> tr> |
| application area td> | - 40 ° to + 55 ° C td> tr> |
| Warranty td> | 5 years td> tr> |
* Color temperatures selectable
---
Light distribution
Function overview
function
E1/ESS Basic
E2/ESS Light
R1/ROAL
D1/MaxiDimm
Possible regulation of power
manually via 10-stage code switch
X
X
X
programmable via service unit
X
Dimming function
Halfnight switching over control voltage 230V
dimming manually via 10-stage code switch
X
X
several dimming levels programmable, astronomical dimming
X
0-10 V / 1-10 V interface
X
X
Dali / PWM interface (only if there is no control line available)
X
Special functions
Constant light function (acting against the loss of light)
X
Conversion kit NewNight cityLED
NewNight city LED conversion kits for street lights: Retooling existing lights to LED

h3>

---

The city LED conversion kits from the NewNight series now offer the first opportunity, existing road luminairs with NAV / HQL illuminants convert to efficient LED illumination.
So that our supplier is one of the first providers of professional LED conversion kits for street lighting for (almost) all major housing forms of suitcases luminaires.
The city LED conversion kits are available with different types of lens / different illumination characteristics and LED performance classes. They are characterized by excellent lighting values.
We thus offer municipalities an economical alternative to purchasing new complete luminaires, which continue to the existing pole installations and lighting, it is simply replaced the bulbs.

Application areas of cityLED conversion kits:

· Conversion of NAV / HQL on LED lighting
· Installation kits for different housing
· Completely ready for installation with all connections
· incl. LED driver and cooling system
· low-cost alternative for receiving your illuminating


---

Technical Specification
| | |
| --- | --- |
| Dimensions | Variable and depends on the type and the mounting plate, with the road luminaire is converted |
| Heatsink | Aluminum, copper |
| LED-Cooling-Engine | High-power LED (chip-on-board module) with suitably configured heatsink with HP technology |
| LED lifetime | > 50,000 hours / 5 year warranty on the LED * |
| Radiating type | symmetric |
| Light spot height | 4 to 7 m |
| Dimmable | yes / 1 - 10 V interface / operation with MaxiDimm / MaxiPlus controller or other LED drivers possible |
| Protection class | IP 65 |
| Temperature range | – 20° up to +55° Celsius |
| Weight | from approx 1.0 kg, depending on the mounting plate |
* LED Engine: L70-value according to the calculation reports the manufacturer for the installed LED modules, ˛ = Pi [W] depending on -indications selected forward voltage and current supplied to the LED module and LED driver configuration / Power Supplies.
Electrical equipment: 230 V / 50-60 Hz / IP 65 / Protection class I or II / manufacturing according to DIN EN, VDE regulations, the product complies with EMC regulations.
All the features can be modified according to your wishes; all technical specifications and LED power values can be modified within the scope of technical progress without prior notice. Color renderings, illustrations and drawings serve to illustrate and may differ from the original, previous data sheets and price lists lose validity.
---
LED color temperatures / LED luminous flux and power consumption
| | | | |
| --- | --- | --- | --- |
| IF [mA] | 4.000 K | 5.000 K | Pi[W] |
| 600 mA | 2.100 lm | 2.170 lm | 27 Watt˛ |
| 720 mA | 2.490 lm | 2.580 lm | 32 Watt˛ |
| 960 mA | 3.290 lm | 3.410 lm | 39 Watt˛ |
Light distribution